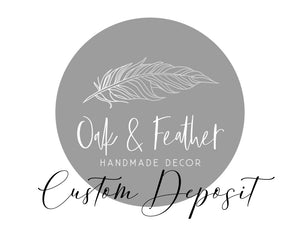 Your custom deposit reserves your spot. I will contact you via email to start the quoting process. The completion date is from design approval, NOT ordering. Once approved, I will send you the balance owing on your custom sign, less the $50 deposit fee. Projects commence only once you have paid in full. 
Customs include: Logos, Photo Recreations (cars/trucks/animals), Handwriting Replicas,  Custom Sized Signs,  or ANYTHING you can think up!
This DOES NOT include outdoor signs!! Outdoor signs are no longer being offered. 
Due to lockdown measures, turnaround time is NOT guaranteed. Approximately 10-12 weeks is my current time from approval, not ordering.